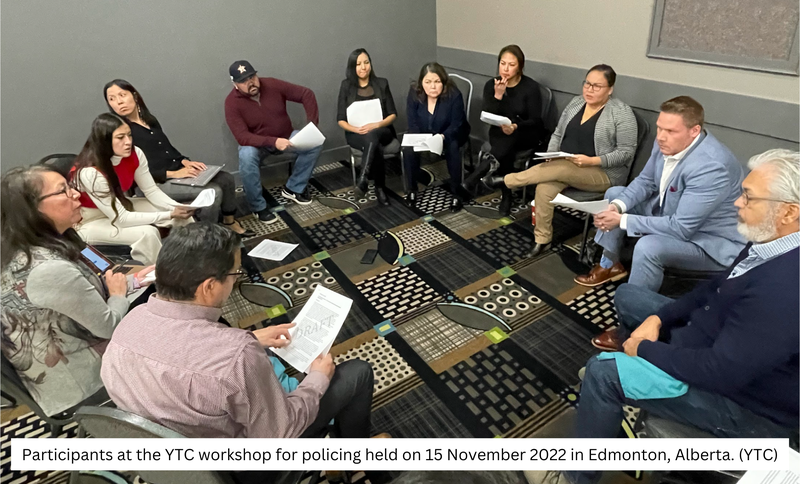 On November 15th, the Yellowhead Tribal Council, with the support of our Chiefs, held a workshop to discuss the Alberta Police Act: Alberta Police Reform Legislation. 
The workshop gathered 30 participants including representatives from Alexander First Nation, Alexis Nakota Sioux Nation, O'Chiese First Nation and Sunchild First Nation.   
Elder Howard Mustus began with a prayer followed by our opening remarks by Chief George Arcand Jr., Chief Tony Alexis and Yellowhead Tribal Council CEO Laverne Arcand.
During the workshop led by master of ceremonies Francis Alexis, participants discussed the area of policing and the "potential" changes to the Alberta Police Act: Alberta Police Reform legislation, discussions taking place within the Federal Government in Justice and Policing, the Treaty Relationship/Agreement (Red Coat protection),

Laverne Arcand, CEO of Yellowhead Tribal Council, emphasized that "our hope is that this work begins the path toward a safe and healthy community for our member First Nations."


Workshops included: 

Treaty Relationship on Law Enforcement and Impact of Residential Schools with Elder Howard Mustus
Reconcili-ACTION in Policing with Indigenous Policing for Alberta RCMP Kimberly Mueller
First Nations Police Services Legislation Update with Assistant Deputy Minister Chris Moran, and Acting Director General Mélanie Théberge (Public Safety Canada)
Alberta Provincial Police Service Public Security Indigenous Advisory Committee with Director, Engagement & Strategy at Public Security Division, Justice and Solicitor General (GoA)Jessica Thomson, Indigenous Policing Coordinator at Alberta Justice and Solicitor General Wendy Uhlenberg
Lakeshore Regional Police Service (First Nation Police Service) with Chief of Police Dale Cox 
First Nation Policing & Restorative Justice Forum with Assembly of First Nations Director of Justice Julie McGregor
Enforcement and Policing Lens with Treaty 8 First Nations of Alberta (Virtual Presentation) with Treaty 8 First Nations of Alberta Grand Chief Arthur Noskey, Chief Administrative Officer Margo Auger, and Chief Executive Officer Lawrence Aimoe
Police Service Delivery Models with Policing Consultants Kris Duek and Aziz Khadem
Treaty Six Policing Model with Tribal Chiefs Ventures Inc. Chief Executive Officer Cam Alexis
YTC Youth Panel with Shae Savoie representative for Alexander First Nation, Jaurie Alexis representative for Alexis Nakota Sioux Nation, Tiffany Mchugh representative for O'Chiese First Nation, and Shenise Lagrelle representative for Sunchild First Nation
Participants analyzed and proposed improvements focused on many issues in the area of policing and service delivery, such as crisis intervention, response time, discrimination, funding, emergency management, mental health and wellness, and addictions.
This is the first police workshop organized within the Yellowhead Tribal Council.