---
RE: Now accepting applications for the 2021-2022 academic year
Yellowhead Tribal Council (YTC) Post Secondary Student Support Program (PSSSP) proudly serves the post-secondary students of Alexander First Nation, Alexis Nakota Sioux Nation, O'Chiese First Nation and Sunchild First Nation. Our goal at PSSSP is to administer the post-secondary students to support effectively and efficiently and to enhance the services to assist students to graduate from their program of studies. 
Please email your YTC 2021-2022 Application and documents to psssp@ytcadmin.ca.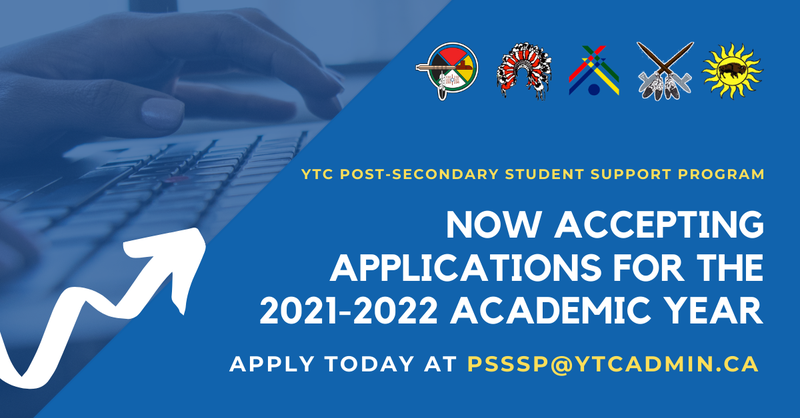 Background: YTC PSSSP provides supports to eligible and approved post-secondary students which include tuition, books, registration fees, program deposits, initial exam fees, tutorials, health and dental fees, monthly student allowance, travel support, financial advice and planning, career counselling, student advocacy. 
Deadlines: Fall and Winter - May 31 & Spring and Summer - April 5. 
Funding Priority Categories
Continuing students of our Four Member Nations: Alexander First Nation, Alexis Nakota Sioux Nation, O'Chiese First Nation and Sunchild First Nation: Post-secondary graduate students, successfully completed current academic year, and medical withdraw. 
High school graduates 
New and returning students