---
The registration form will be available on March 10, 2022, from 9:00 AM - 3:00 PM.


Note: This is a timestamped submission and you will be contacted by email with confirmation number and pick-up information. In order to register in a timely manner - please have a treaty number, pen, and paper ready.

Limited registration available – online registration will close at full capacity. 
Please be aware that filling out this form does NOT confirm your registration
This is a time-sensitive form that will be timestamped at the time you SUBMIT FORM and will determine the order you will be contacted
All information collected by YTC will be kept confidential
Criteria:
In need of basic necessities due to the impact of COVID
One (1) distribution per household
Monthly income must NOT exceed $4000.00 /per household
YTC urban member (AFN, ANSN, OCFN, SCFN)
OR current student of Yellowhead Tribal College
In-person pick-up ONLY must provide:

Picture ID and Treaty Number
Proof of Address (license, lease, or utility bill)
Child Identification (health care card or treaty card) 
Confirmation Code provided by YTC
Distribution dates - If you do not pick up at a designated time and location your distribution will go to a family on the waitlist:
Monday, March 21 - Calgary
Tuesday, March 22 – Rocky Mountain House
Tuesday, March 22 – Red Deer
Thursday, March 24 – Edmonton
Friday, March 25 – Whitecourt
Friday, March 25 – Hinton
Out of Province (Areas Not Listed)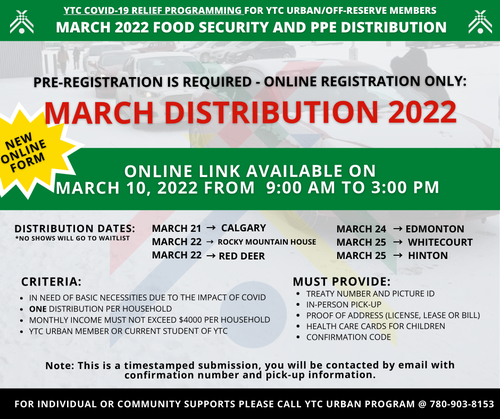 FAQ: How do I know if I'm selected to receive distribution?

If selected. You will be emailed a confirmation number and be provided the pick-up information by March 22, 2022, by 4:30 PM. 
FAQ: When will you cut off registration? 
The registration form will be available on March 10, 2022, from 9:00 AM - 3:00 PM.
For individual or community support please call YTC urban program @ 780-903-8153

Copy/Paste Link: https://forms.gle/Zq7LB1X6iK2zAuJN7