---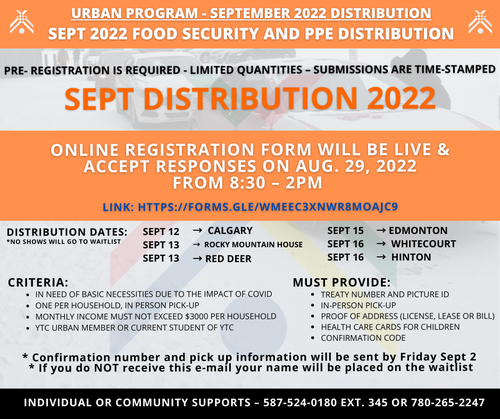 The registration form will be available on August 29th, 2022, from 8:30 AM - 2:00 PM.

Any fraudulent information - will result in permanent removal from this service.
Note: This is a timestamped submission and you will be contacted by email with a confirmation number and pick-up information. In order to register in a timely manner - please have a treaty number, pen, and paper ready.

Limited registration available – online registration will close at total capacity. 
Please be aware that filling out this form does NOT confirm your registration
This is a time-sensitive form that will be timestamped at the time you SUBMIT FORM and will determine the order you will be contacted
All information collected by YTC will be kept confidential
Criteria:
In need of basic necessities due to the impact of COVID
One (1) distribution per household
Monthly income must NOT exceed $3000.00 /per household
YTC urban member (AFN, ANSN, OCFN, SCFN)
OR current student of Yellowhead Tribal College
In-person pick-up ONLY must provide:

Picture ID and Treaty Number
Proof of Address (license, lease, or utility bill)
Child Identification (health care card or treaty card) 
Confirmation Code provided by YTC
Distribution dates - If you do not pick up at a designated time and location your distribution will go to a family on the waitlist:
Calgary at Grey Eagle Resort and Casino (3777 Grey Eagle Dr, Calgary, AB T3E 3X8) September 12, 2022
Rocky Mountain House at Walking Eagle Inn & Lodge (4819 45 St, Rocky Mountain House, AB T4T 1A9) September 13, 2022
Red Deer at Cambridge Red Deer Hotel & Conference Centre (3310 50 Ave, Red Deer, AB T4N 3X9) September 13, 2022
Edmonton at DoubleTree by Hilton Hotel West Edmonton (16615 109 Ave NW, Edmonton, AB T5P 4K8) September 15, 2022
Whitecourt at The Kanata Inns - Whitecourt (3315 33 St, Whitecourt, AB T7S 0A2) September 16, 2022
Hinton, Alberta on September 16, 2022
Out of Province (areas not listed)
FAQ: How do I know if I'm selected to receive a distribution?

If selected. You will be emailed a confirmation number and be provided with the pick-up information by September 2, 2022, at 4:30 PM. 
FAQ: When will you cut off registration? 
The registration form will be available on August 29th, 2022, from 8:30 AM - 2:00 PM.
For individual or community support please call YTC urban program @ 587-524-0180 EXT. 345 OR 780-265-2247